GET ADVICE THAT CHALLENGES YOU
World-class coaching, resources and strategic partners are yours as part of the country's leading Christian Business Forum.

DRIVE MEANINGFUL GROWTH
Members see profitability improve 3x as compared to industry peers, even in economic downturns.

ENGAGE WITH A SUPPORTIVE FELLOWSHIP
You will no longer be "lonely at the top." Surround yourself with others building great businesses for a greater purpose.
THE BUSINESS DECISIONS WE MAKE
EVERYDAY WILL EITHER HELP OUR
COMMUNITY THRIVE OR PUT IT AT RISK.
Who's got your back when tough decisions need to be made?

What's your plan for top line growth and increased profitability?

How will you capture opportunities instead of being frozen with indecision?

Who will help you lead others to success and not failure?

How will this life be better because of your actions and influence?
WE HELP MEMBERS MAKE SHARP DECISIONS, LEAD WITH LOVE,
AND STEWARD OUR ORGANIZATIONs TO HEALTHY GROWTH. 
Improve Leadership Skills
75% of members attributed significant leadership improvement to their C12 CEO Business Forum experience.
Increase Business Profitability
Member companies experienced 3x increased profitability compared to their industry peers.
Build Resilient Thoughts and Actions
79% of member companies outpaced peers during economic downturns.
MAXIMIZE YOUR LEADERSHIP POTENTIAL.

Join a Business Forum
Meet regularly with your forum, filled with other successful, like-minded Christian leaders who are eager to help you thrive.

Engage and Be Challenged
Membership in the C12 Maryland Forum requires accountability, a growth mindset, and a willingness to be constructive – even when in opposition.

Increase your Impact
Revenue, influence, purpose, legacy? You choose what to grow, how you measure your success, and how your gifts will benefit others and build a Life of Significance.
IF YOU ARE HAPPY WITH THE STATUS QUO, DON'T JOIN C12 MARYLAND.
We believe the people around us deserve our best.
Thats why we insist that members:
Embrace a growth mindset,
Are willing to be vulnerable,
And have a true desire for accountability.
Achieve uncommon results as a leader of people and profits
when you pursue your understanding of business as a ministry.
At C12 Maryland, we know that you want to be a leader who is making all the right moves, ESPECIALLY right now. In order to do that, you need to quickly think strategically and make your best decisions.
The problem is that there is so much information coming at you that it can be hard to know where to focus. And this may make you feel like you are in over your head and in danger of failing as a leader.
We believe you can be a light in this crisis. We understand what it is like to feel isolated and bearing the weight of all the hard decisions, which is why we convene business forums for thousands of Christian CEOs, business owners, and executives across the U.S.
Here's how we do it:
Join a Board.
Participate Openly.
Grow Your Contribution.
So, apply now for membership. And in the meantime, download "The 9 Must-Do Roles of a Christian CEO" (available below). 
So you can stop worrying if this crisis will crush you and instead join a group of like-minded people who can help you make your best decisions.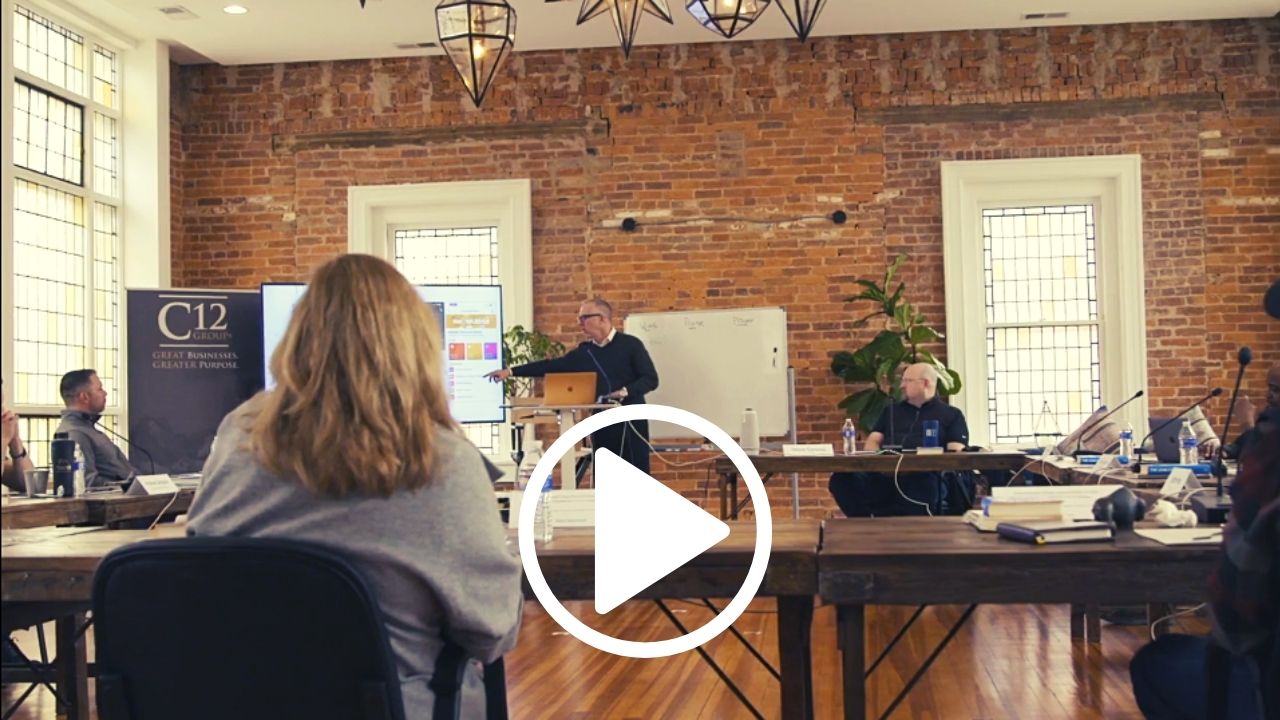 "I know what it is like to feel alone when making the hard decisions."
– David Weigelt
Chairman, C12 Maryland
MEMBERSHIP OPTIONS
C12 Maryland offers the following membership options to
organizations meeting the minimum qualifications.
Do you feel stretched at the top of the org. chart?
In the whirlwind of management, daily busyness, and routine, leaders are pulled in many directions, making it easy to lose sight of the bigger picture.
While there are many tasks you can do with your multitude of abilities and unwavering desire to succeed, there are nine C-suite roles executive leaders must assume to lead and grow a company successfully. Are these roles being neglected or left to be performed by someone else?